Hacienda del Álamo Golf Resort is zonder twijfel het beste golf resort in de Costa Cálida. Het resort biedt uitstekende golf- en sportfaciliteiten, en een ruim scala aan faciliteiten en diensten.
Het zacht glooiende terrein ligt aam de voet van de Sierra de Carrascoy en biedt prachtige uitzichten. Op slechts drie kilometer ligt het provincia stadje Fuente Alamo, waar u alles vindt wat u maar nodig kan hebben: supermarkten, restaurants, mode winkels, garages, medisch centrum….. noem maar op. Én de beste bakker en slager van de regio.
De historische steden Murcia en Cartagena (2.500 jaar geschiedenis!) zijn vlot te bereiken en heerlijk om te shoppen, tapas te eten, of gewoon zo maar lekker te flaneren.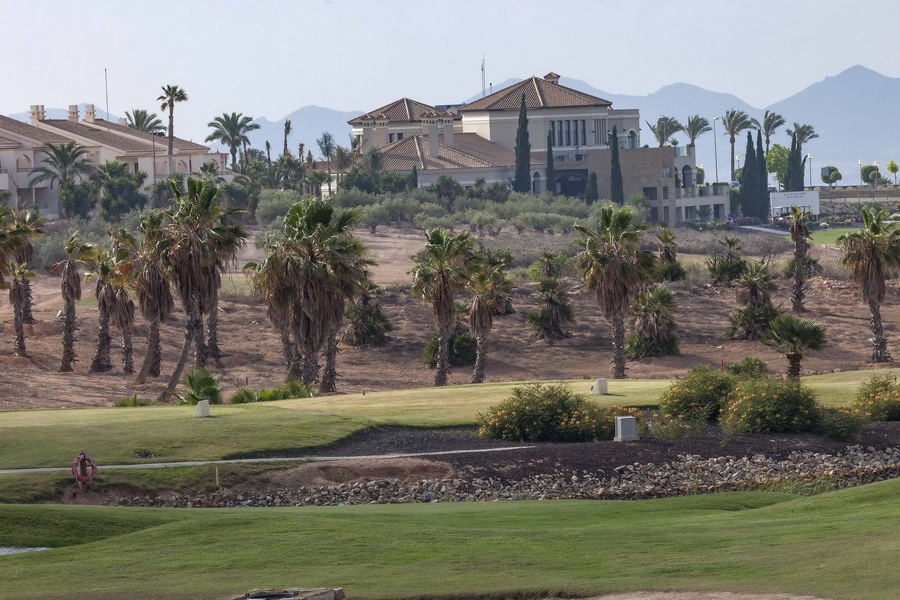 Faciliteiten & Diensten in het resort:
18-holes, par 72-holes PGA golfbaan
De langste golfbaan in de Costa Cálida
Golfacademie met een 6-holes baan
Sportclub: Fitness, Tennis, voetbal, jeu de boules, paddle, basketbal..
Hotel & Spa
Winkelcentrum Pueblo Español
Supermarkt
Bars
Restaurants
Speelparken
24 uurs beveiliging
Hacienda del Álamo is een ruim resort, gebouwd in typisch mediterrane stijl, met een grote verscheidenheid aan woningen, variërend van appartementen, geschakelde woningen tot vrijstaande villas. Van 1 tot en met 4 slaapkamers in alle categoriën.
Alle woningen, van klein tot groot zijn zeer geschikt voor permanente bewoning. Er wonen zo'n twee duizend mensen permanent in het resort.
Los Olivos: grote appartementen met 2 en 3 slaapkamers, met ondergrondse parkeerplaats en berging. Marmeren vloeren, jacuzzibad en meer luxe voorzieningen…..
El Oasis: Appartementen met 1, 2 en 3 slaapkamers, elk met een eigen dompelbad
Pueblo Español: Appartementen en stadsvillas met 1, 2, 3 en 4 slaapkamers in het centrum van het Resort. Uitgevoerd in de typische Spaanse rustieke stijl.
Geschakelde woningen: een grote selectie van geschakelde villas in verschillende stijlen en indelingen, met 2 of 3 slaapkamers op verschillende locaties in het resort.
 Vrijstaande Villas: Villas met 3 of 4 slaapkamers en privézwembaden op privépercelen vanaf 700 vierkante meter.
 Nieuwbouw: Kies uit verschillende modellen of laat ons u helpen met het ontwerp van een perfecte op maat gemaakte eerstelijns golfvilla
 Luchthavens:
Murcia Internationaal (RMU): 15 minuten
Alicante (ALC):                            60 minuten
Stranden:
Los Alcázares (Mar Menor): 25 minuten
Puerto de Mazarrón:               25 minuten
 Historische steden:
Cartagena: 25 minuten
Murcia:      30 minuten
Lorca:        40 minuten
 Natuur:
Sierra de Carrascoy:   10 minuten
El Valle:                        20 minuten
Sierra de Espuña:       30 minuten
 In Hacienda del Álamo Golf Resort vindt u de perfecte plek in Spanje, het is echt een plek waar u echt van het leven kan genieten.
Woningen in Hacienda del Alamo Golf Resort.