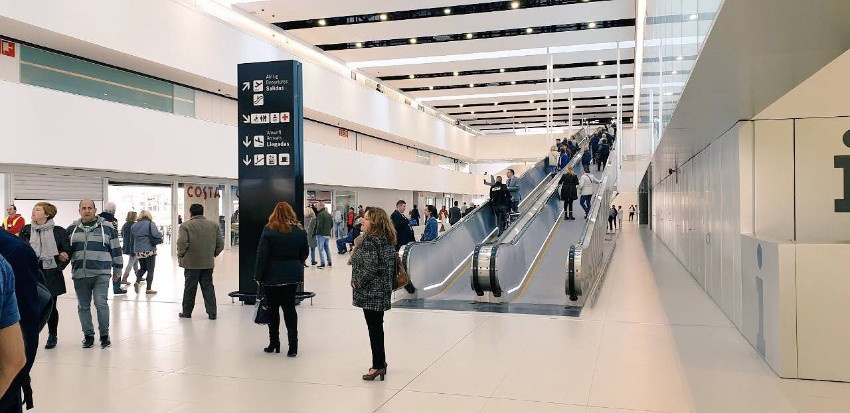 Corvera Murcia Airport is an international airport and as such will be bigger and offer more facilities and services than the nearby Murcia San Javier airport. The San Javier airport will close and return to military use and the Corvera airport will replace the San Javier airport as the main airport for the region of Murcia. As such the new airport will be known as the Region de Murcia International Airport, or the Region of Murcia International Airport.
The main terminal building will be approx 37,000 square metres in size and within the main hall there will be 24 check-in counters in addition to a counter for special luggage requirements in departures. There will also be 3 double security checkpoints from the main hall leading in to the departures area with 9 boarding gates. 6 of the boarding gates will be for non-Schengen countries and 3 will be to Schengen countries (the Schengen Area comprises 26 European states who do not have border control between each other).
Within the baggage reclaim area you will find 3 carousels in addition to a dedicated area for special baggage requirements. The arrivals hall will be a vast open space with ceilings 10m high, ideal for meeting and receivign passengers and guests. There will also be 17 lifts within the airport and multiple passenger information screens strategically located to ease your passage through the airport.
The usual range of services and facilities will be expected and we will be updating this list of services over the coming weeks;
Passengers with reduced mobility or particular needs will be catered for throughout the airport. We expect to cater for all passengers and offer smooth and simple transit for everyone.
Airport Lounges & VIP Lounges
There will be 2 x cash machines (Euronet 360 Finance) within the airport
Business Services
Within Corvera airport there is wifi and internet access areas as well as phone charging points.
Currency Exchange
Kids in the airport (play areas, strollers, changing areas, lactation areas)
Lost Luggage Corvera Airport
Passenger Services General
Murcia Airport has a diverse choice of cafes, restaurants, coffee shops, fast food outlets and traditional Spanish gourmet eateries throughout the Departures and Arrivals areas.
Shopping
Corvera airport management company, AENA, has announced the contracts awarded to retailers and services providers for the new terminal. The retail outlets will occupy units of 60 square meters within the new complex, providing the level of services that one might expected to find at a modern international airport. More contracts are to be announced in due course.
Retailers:
Submarine
Submarine offers a wide range of craft and artisan products, typical of the region of Murcia, as well as souvenirs, local wines, archaeological reproductions, and artistic prints.
For more information click Here
Ibérica Negocentro
Ibérica Shop specializes in typical Spanish delicatessen products, such as wines, spirits, sausages, oils, pickles, preserves, as well as souvenirs, It also has a space for tasting its products.
For more information click Here
WHSmith
WHSmith is one of Britain's leading high street booksellers and newsagents, that also acts as a convenience store for snacks and drinks. There are two outlets for WHSmith, one in departures on the upper level, and one between arrivals and the check in desks, on the ground floor.
For more information click Here 
Duty Free
Dufry is present in over 400 locations across the globe. The store has  140 square meters offering traditional duty free products in the departure lounge, including tobacco, wines, beers, spirits, perfumes, and luxury gift items.
For more information click Here
Euronet ATM Machines
Euronet 360 Finance has been contracted to provide two ATM cash machines in the terminal, both will be found on the ground floor. One is situated beside the exit as you come out of the arrivals hall/ baggage collection, and one is on your right hand side after passing through the main entrance, before you arrive at the check in desks.
For customer service click Here
Vending Machines
Airfoods Restauración has been charged with the supply and maintenance of 18 vending machines that are placed throughout the terminal complex. These will supply drinks and snacks.
For customer service telephone:  +34 968 571 846
Primary source Corvera Airport Travel