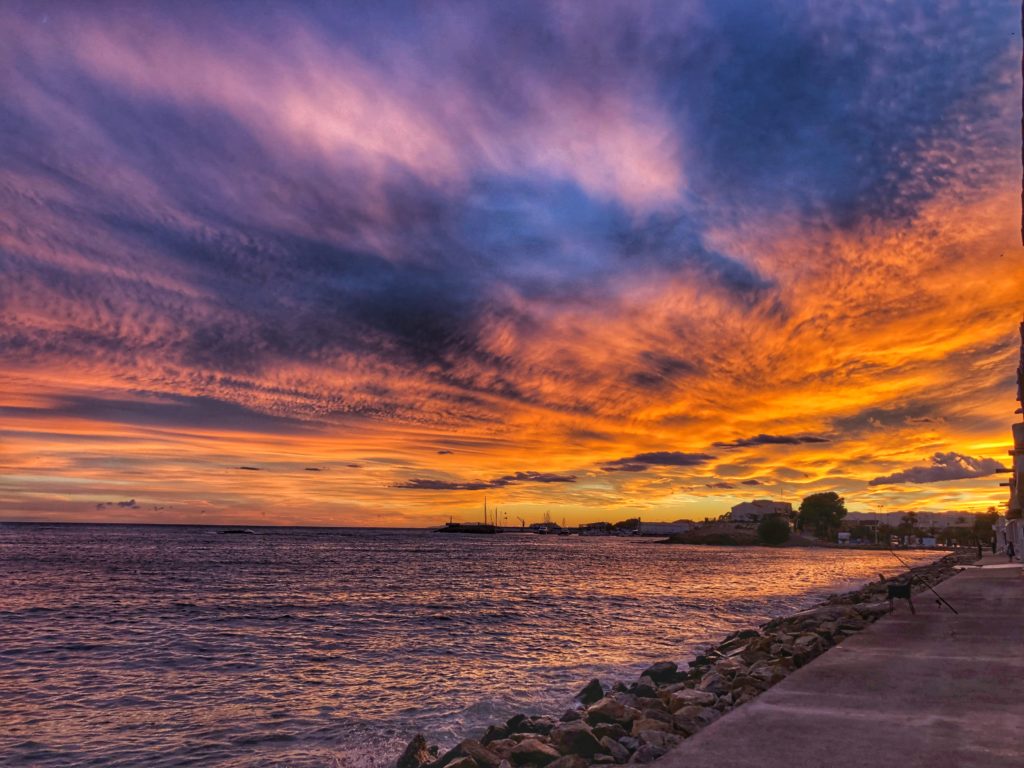 The Costa Cálida, situated between Alicante in the north and Águilas in the south offers a great variety in nature, beaches, gastronomy and culture spanning more than 25 centuries.
This part of Spain is known for its great quality of life. Thanks to its excellent Mediterranean climate, the Costa Cálida is ideal for vacations as well as a permanent residence. Although geographically a small area, the variety in landscapes is astounding. It takes less than an hour to travel from the many beaches, through the fertile plains to the mountainous wine areas. The three major cities in the area are Murcia, Cartagena and Lorca, all within easy reach.
The Costa Cálida boasts quality tourism throughout the year: blue flag beaches, golf courses, leisure, culture and nature. What makes the area even more attractive is the absence of mass tourism.
The Costa Calida is blessed with many kilometres of fine beaches, with some areas backed by dunes and virgin pine forests. The many towns and villages on the coast are proud of their promenades and beaches. Most beaches are well served by bars and restaurants, or chiringuitos as the locals call them. Several natural Parks can be found in the area, also on the coast, providing a good selection of virgin beaches,
The plains of the Costa Calida are incredibly fertile and produce a vast array of fresh fruit and vegetables, which make up the base ingredients of the region's cuisine.
Slightly further inland, the Valle de Ricote is hilly and verdant green with abundant forests and leads on to the areas around Jumilla and Bullas where some spectacular wineries provide top quality wines.
Specialty dishes include "arroz y costillejas" rice and ribs; "Caldero" seafood rice from the Mar Menor area; "habas con jamón" ham and broad beans; and "pescado a la sal" baked fish in salt. The local prawns are justifiably famous for their sweetness. Those who have lived here for some years are proud and correct in telling visitors; "aquí se come bien!, we eat well here!
Blessed by a mild Mediterranean climate, the area has around 320 days of sun per year. Minimum temperatures range between 12-14C and maximum temperatures between 20-22C in winter. Summer temperatures vary between 18-20C minimum and between 30-35C maximum. The average annual temperature is very comfortable 18C.
The area is well served by a very modern road network, making it easy to explore. Bus and train connections within the region and the rest of Spain are excellent and the area is served by two International airports; Alicante (ALC) and the new aiport at Corvera (RMU).
If you are looking for an area which combines a great climate with a rich offering of sights to see whilst remaining thoroughly authentic, then the Costa Cálida is the place to be. Why not arrange a visit and let us show you the area we have proudly called home for many years.
Historic Cities
Murcia
Locally referred to as "Murcia Capital" to distinguish it from the eponymous province and autonomous region, Murcia is a large city of some 400.000 inhabitants. The town centre is beautifully historic, and pride of place takes the cathedral. Join the locals for some typical regional tapas and a drink at the plaza de las flores. Several large commercial centres cater to all your shopping wishes.
Cartagena
Walking around this ancient port city, one cannot avoid literally bumping into some 2.500 years of history, ranging from roman baths to the impressive theatre. The city is very easily accessible by bus, train and car. From the marina one walks straight into the pedestrianized centre of town with its many shops, bars and restaurants. If you can, go up to any of the hilltops which surround the city and enjoy some of the most spectacular views the Mediterranean has to offer.
Lorca
This small city is in fact the largest council in Europe, as it borders the province of Granada on one side and the beaches of the Costa Cálida on the other. This delightfully baroque city has a compact pedestrianized centre and is overlooked by its enormous castle, which played a significant part in the history of Spain. Perhaps this is the only castle with a time machine… visit the castle and find out! Should you be visiting in the spring, then make sure to visit the Easter processions, which are without a doubt the most impressive in Spain.
Caravaca de la Cruz
The city was granted the celebration of a Holy Jubilee year every seven years in perpetuity by Pope John Paul II in 2003. Only five places in the world have been honoured this way: Rome, Jerusalem, Santiago de Compostela, Santo Toribio de Liébana and Caravaca). The legends from which the city takes its name make it worth a visit. Once there, enjoy some "Bomba" rice from nearby Calasparra and some great regional wines from Bullas and Jumilla.
Beaches
The Costa Cálida plays host to numerous blue flag beaches, rewarded this distinction for their excellent water and services. Most beaches consist of fine golden sand. How do you like your beach? The region has them in every shape and size you could desire. From the shores of the Mar Menor with their attractive palm-lined boulevards or "Paseo Maritimo" with their chiringuitos (beach restaurants) to enjoy some local specialties. Or perhaps you wish to get away from it all and visit the natural virgin beaches of the Calblanque natural park, untouched by any modern development. The south of the area offers many small sheltered coves ("Calas"), where you can while away the day and have the beach all to yourself on any given day.
All along it's coast line, the Costa Cálida offers a bewildering choice of beaches, each with their particular features and strengths. Which is the best? Well, that depends on you and we would advise to go and explore!
Our favourites:
Torre de la Horadada: it is wide and long whit near white sands. Picture perfect.
Los Alcazares: warm water, shallow incline, chiringuitos and town centre nearby.
Mar de Cristal: great for kids to play in the water, calm water
Cala Cortina: Just off Cartagena, Mostly locals and a great restaurant for lunch
Puerto de Mazarrón: Stunning views, fine sand and great town centre
Bolnuevo: A huge beach, great for play time on the beach with the kids
Nature & Natural Parks
The region of Murcia has no less than 19 areas under different statutes of protection, representing a tremendous 6% of its territory. From the arid landscapes just inland from Lorca to the lush forests of the Valle de Ricote, the Región of Murcia offers tremendous natural areas waiting to be discovered and explore. If trekking and outdoors activity are your thing, then you've come to the right place.
The best know are the following, a great start to discover the natural riches of the area:
• The Sierra Espuña, a protected natural space, has an area of 17,804 ha. This Regional park is centred around the 1.583M Sierra Espuña mountain. The park has many areas for visitors to enjoy and an outstanding and a very informative visitors centre. Wildlife is abundant and easily observed.
• Calblanque, Monte de las Cenizas y Peña del Aguila, between La Manga and Cartagena, Calblanque is also one of the top-favourite beaches for locals and visitors as it is completely in its natural state..
• Carrascoy y el Valle is a Special Protection Area (SPA) and Site of Community Importance (SCI).
• Cerro de Cabezo Gordo, in which there is the archaeological site of Sima de las Palomas, a cave where the second oldest human remains in the Iberian Peninsula were found.
• Barrancos de Gebas
Outdoor Activity
Granted, most visitors are attracted to the Costa Cálida for its climate and authentic Spanish feel. At the same time, the region offers a great variety of outdoor activities to enjoy. The region is great to explore on bicycle and groups on racing bikes are a common site in the weekends. The natural parks are great for exploring on foot or mountain bike. Canoeing is popular on the region's rivers and provide some stunning views of some little know areas.
The coast offers a great range of water sports to be enjoyed from chárter rental, to sailing, windsurfing, snorkelling and diving. Let us know your interests and we will be glad to point you in the right direction.
Golf
Over the past decade, the Costa Cálida has made a name for itself as the premier golf destination in Europe. The area boasts some 30 golf courses, representing the full range from amateur to PGA standard. In comparison to other destinations, playing golf here is not expensive and with the perfect, the courses can be played throughout the year. There are some excellent golf academies and driving ranges for those who want to get started in golf.
All in all, the Costa Cálida offers a great choice of activities, for all levels of fitness, from interesting walks to extreme sports.
Dining, entertainment and nightlife
For those who appreciate the Spanish cuisine and lifestyle, few places could be better than the Region of Murcia. Bars and restaurants of great value for money and a great selection of regional specialties. A "Menu del día" can be enjoyed in most place at around 10 Euros and we can highly recommend trying this great custom. The region always has a fiesta going on somewhere and the themes of these are very varied indeed, from "burying the sardine" in Murcia city to the impressive Easter processions in Lorca all the way to the acclaimed San Javier jazz festival.
Murcian gastronomy is based on a simple preparation of great quality food and to let the ingredients do the talking. Spain has developed tremendously over the past decade and high class, Michelin rated restaurants mix it up with traditional family run restaurants.
The options are truly endless, and our best advice is to explore.
Not convinced yet?
In that case, come and visit our area. Resort Villas Murcia offers complimentary accommodation for those considering investing in a property. And we will show you much more than houses. We have lived in the area for many years and will be glad to share our local knowledge with you, so that you will have the perfect place to enjoy the best quality of life.
If you are looking for an area which combines a great climate with a rich offering of sights to see whilst remaining thoroughly authentic, then the Costa Cálida is the place to be. Why not arrange a visit and let us show you the area we have proudly called home for many years.
Featured properties in Costa Cálida.