The International Airports Council (ACI) has awarded the Corvera Airport to the 'Best European Airport' in the category of airports serving less than two million passengers per year.
It was awarded in three categories: Cleanliness, ease of travel, and overall experience.
It is the third consecutive year that this small and very convenient airport wins ACI awards.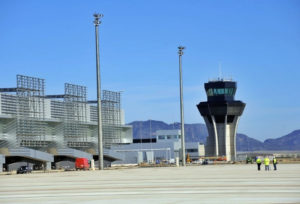 The ranking of airports is done by passengers, who are asked to fill out a questionnaire when traveling through airports in Europe.
Murcia International Airport, the official name for what is commonly referred to as "Corvera Airport" is named after Juan de la Cierva
Juan de la Cierva y Codorníu, First Count of la Cierva was a Spanish civil engineer, pilot and self-taught aeronautical engineer. His most famous accomplishment was the invention in 1920 of a rotorcraft called Autogiro.
The airport is conveniently located less than 15 minutes from the popular Hacienda del Álamo Golf Resort. This resort is one of the favorite destinations for residential tourism and golf in the region.